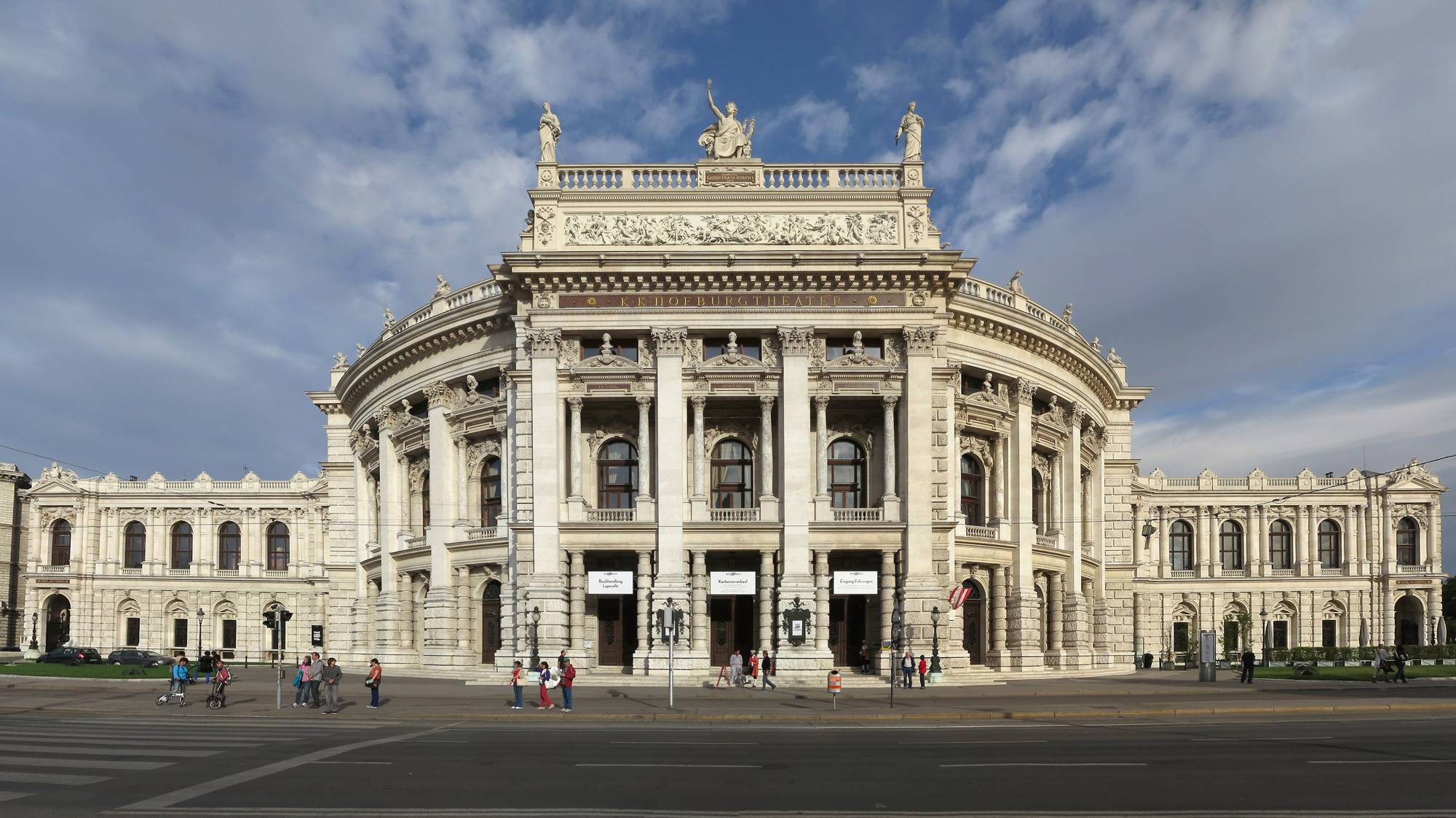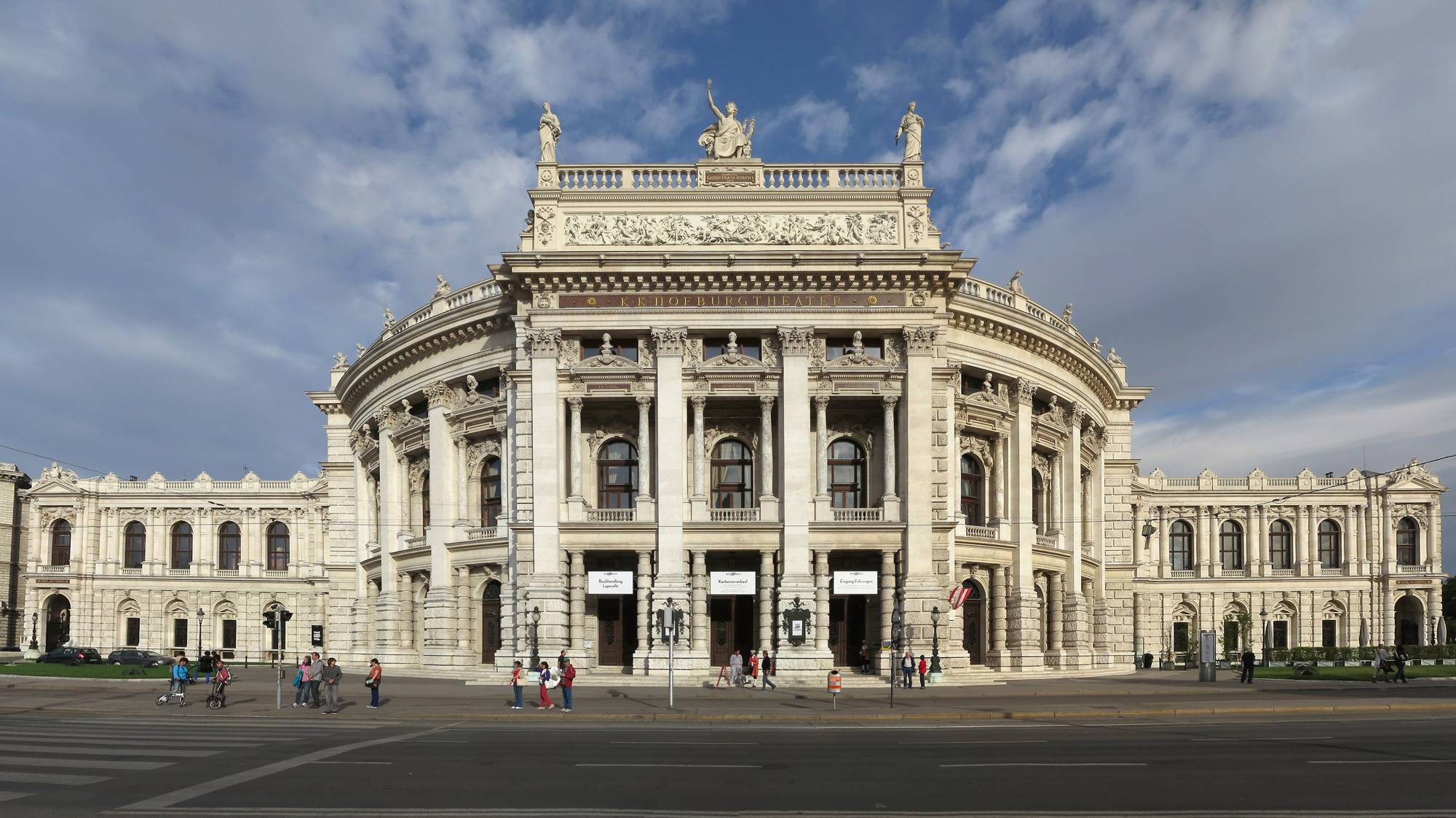 🇦🇹 Burgtheater
The Burgtheratre is Autria's most accomplished spoken-word theatre.
History
The old Burgtheater was since 1748 on Michaelerplatz. October 1888 the new house was today Universitätsring (then Franzensring, then two other names) opened. After this in 1945 was completely burnt as a result of bombing raids, the Ronacher served to reopen on 14 October 1955 as a temporary home. The Burgtheater is considered Austrian National Theater.
Older names of the Burgtheater were K.K. Theater next to the castle and then to 1918 K.K. Hof-Burgtheater. Especially in Vienna, it is often referred to as 'The Castle', the ensemble members are known as actors. After a number of staff and budget, it is the 'richest and largest repertory theater in the world'. Director of the Burgtheater since March 2014 Karin Bergmann.
Good to know
The original Burgtheater was decorated in a Ballhaus that the Roman-German king and later Emperor Ferdinand I had it built in 1540 in the lower orchard the Imperial Palace after the old Ballhaus was in 1525 fell victim to a fire. Until the beginning of the 18th century was played there, the Jeu de Paume, a precursor of tennis.
The 'new' k.k. Hofburgtheater (as the inscription until today reads) on the ring opposite the town hall, opened on 14 October 1888 Grillparzer Esther and Schiller's Wallenstein's Camp, was designed in the neo-baroque style by Gottfried Semper (floor plan) and Karl Freiherr von Hasenauer (facade), the had already planned the Imperial Forum in Vienna together. Construction began on 16 December 1874, they have dragged on 14 years in which fell out the architects. Already 1876 Semper withdrew due to health problems to Rome and let Hasenauer realize his ideas alone, who had used the dispute of the architects especially for a magnificently ausgestaltetes lodges Theater.
Technology and Specials
The auditorium has approximately 1,340 spectators (1,175 seats), making it one of the largest among Europe's playhouses. The stage portal is 12 meters wide and 9 meters high at the highest point. The fly lofts and lighting bridges are located in 28 m height. The stage area is approximately 780 m², with a width of 31 meters and a depth of about 25 meters - although it can be extended by an extension in the Cercle area.
The stage itself is located on the 1st floor of the theater building, for the actors there are on both sides of the stage ever two entrances. In the back stage area, a large lift, which is 20 meters wide and 1.5 meters deep and is therefore suitable for the carriage of decorations that can be very wide and up to 3.5 meters high, but just barely 1.25 meters deep, although there , Larger setting parts can only be transported tilted.